La Pervinca was created to capture the magic and curiosity of youth, peering into a looking glass, the possibility for new ideas and adventures abound. Small murrines of clear blue glass wrapped with layers of white and light blue are nested together at the bottom of a sphere of clear glass.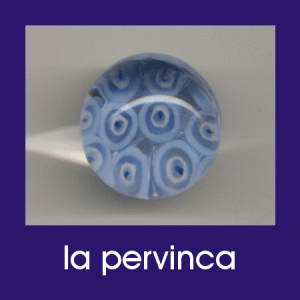 Measuring approximately 1 inch in diameter, the glass pull knob is paired with a 5/8 inch diameter polished chrome mount (making a 1-5/8 inch total projection from the cabinet face).
Every glass pull is made by hand, to order, so please allow 3 to 4 weeks for shipment.
$68 each.