La Foglia was created to celebrate the natural setting of Villa Vuoto, nested on a wooded hillside covered with the native flora and leafy underbrush. A thin vine of green adventurine glass spirals around a sphere of clear glass.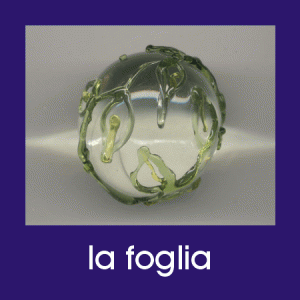 Measuring approximately 7/8 inch in diameter (just under 1 inch diameter overall projections), the glass pull knob is paired with a 5/8 inch diameter polished chrome mount (making a 1-5/8 inch total projection from the cabinet face).
Every glass pull is made by hand, to order, so please allow 3 to 4 weeks for shipment.
$68 each.