The Murrine style pull knobs are made with a technique thousands of years old, raised to an art form by the glass blowers on the island of Murano. Multiple colors of glass tubes are melted together, then gathered to form a landscape of suspended reeds. A flowering ring of white glass is wrapped by thinner layers of deep blue and yellow, suspended in a sphere of clear glass with small clear bubbles nested within.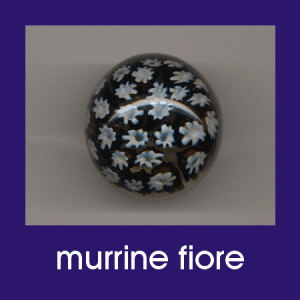 Measuring approximately 1-1/2 inch in diameter, the glass pull knob is paired with a 5/8 inch diameter polished chrome mount (making a 2-1/8 inch total projection from the cabinet face).
Every glass pull is made by hand, to order, so please allow 3 to 4 weeks for shipment.
$88 each.