Il Cerchio was created to celebrate the playful nature within the vibrant colors and circular spaces of Villa Vuoto. Glass rings of light blue, deep yellow, light green and deep red float atop a sphere of clear glass.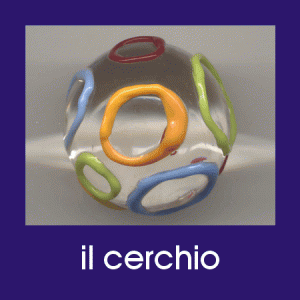 Measuring approximately 7/8 inch in diameter (just under 1 inch diameter overall projections), the glass pull knob is paired with a 5/8 inch diameter polished chrome mount (making a 1-5/8 inch total projection from the cabinet face).
Every glass pull is made by hand, to order, so please allow 3 to 4 weeks for shipment.
$68 each.