Published in North Hills Monthly Magazine, this collection of editorial features is from the second year in an ongoing series addressing architectural issues of the home.
List of essays included: Who Speaks for the Trees?, Holzwege, Roots of a Home, Cherry Blossoms, Treehouses, A Cabinet of Curiosities, Fairy Gardens, Not All Decks Are Created Equal, Waldbäume, The Spiraling Housing Market, What is the Nature of a Home?, Reporting From The Front.
excerpt:
The house I grew up in began as a modest-sized house;
three bedrooms with a single bathroom.
Growing up with three sisters, my dad quickly realized a second bath was needed.
A few interior walls shifted around over time to squeeze in a fourth bedroom,
but beyond that, things sufficed until the end of high school,
when a sunroom was added to the back of our house—a place to sit
with more natural light than the draped living room provided.
The latest addition to the house was a ramp I built earlier this summer to prepare for the return of my mother, who had spent many months in an assisted living facility recovering from a fall, my father by her side.
We wanted to bring her back home, so transformations were made in preparation.
The house reminds me of a story she read when I was growing up, The Giving Tree.
The selflessness of that tree always struck me, giving every part of itself,
limb by limb, for another in need. I like to think our house has the same intent, giving of itself through all the changes experienced as our family grew,
and now supporting my mother one last time in her need to return home.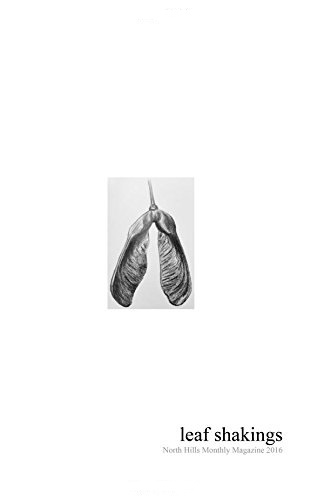 leaf shakings ( North Hills Monthly Magazine 2016)
Order a Copy